Sizes are good to see.
I came across this wonderful size guide today and I figured it would be nice to share it with all of you.
Sizes can be tricky sometimes, especially while buying art online it is difficult to imagine what the piece could look like on the wall. This guide is helpful, remember that it is a size guide borrowed from a photographer ( Thank you Brinn Stone Photography) so the sizes are based on photography reprints.
Fine art paintings usually are larger. Some come in standard sizes but not all do. Our artists many times do custom canvas sizes to fit their desired look.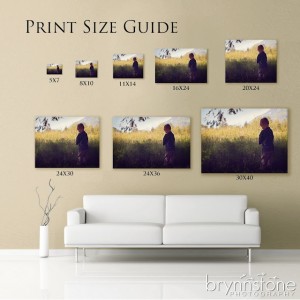 If you are thinking of purchasing art online a good idea is to simply cut out the actual size of the piece you are purchasing out of gift wrapping paper to get an idea how big it is. Then you can simply try it on on your wall where your actual piece of art might hang. This gives you a good idea how the piece will fit in your space and you can avoid miss calculating. Keep in mind that if you would want framing for your piece the size might increase by quite a bit.
If you are thinking of purchasing a specific piece from one of our artists, contact us and we can always snap a photo of the piece in our studio in relation to other objects, that way you can imagine the size and how it can fit into your space.
What size of art do you usually purchase? Large pieces that are centerpieces of the room? Or are you a fan of smaller pieces that are all about detail?